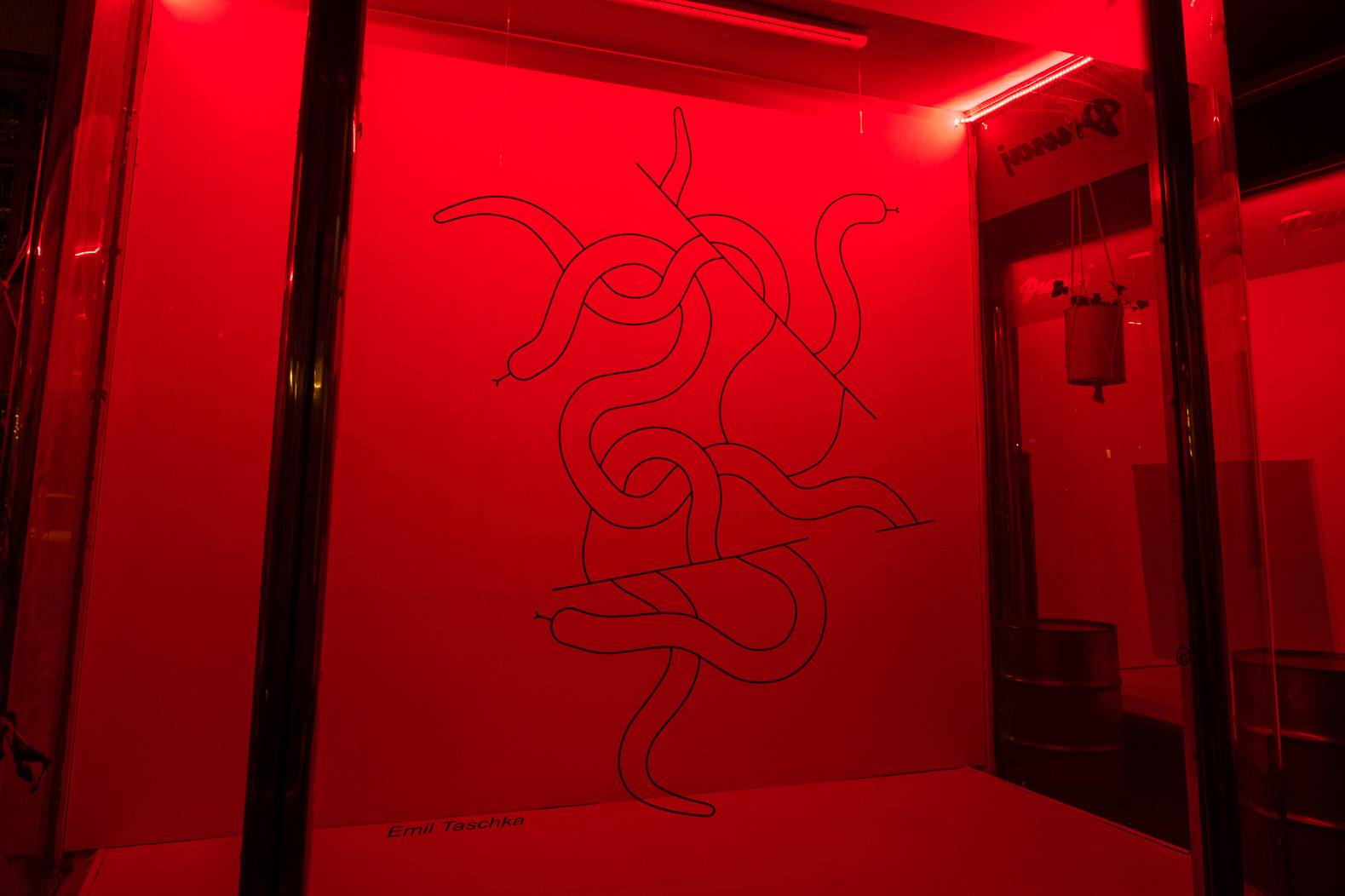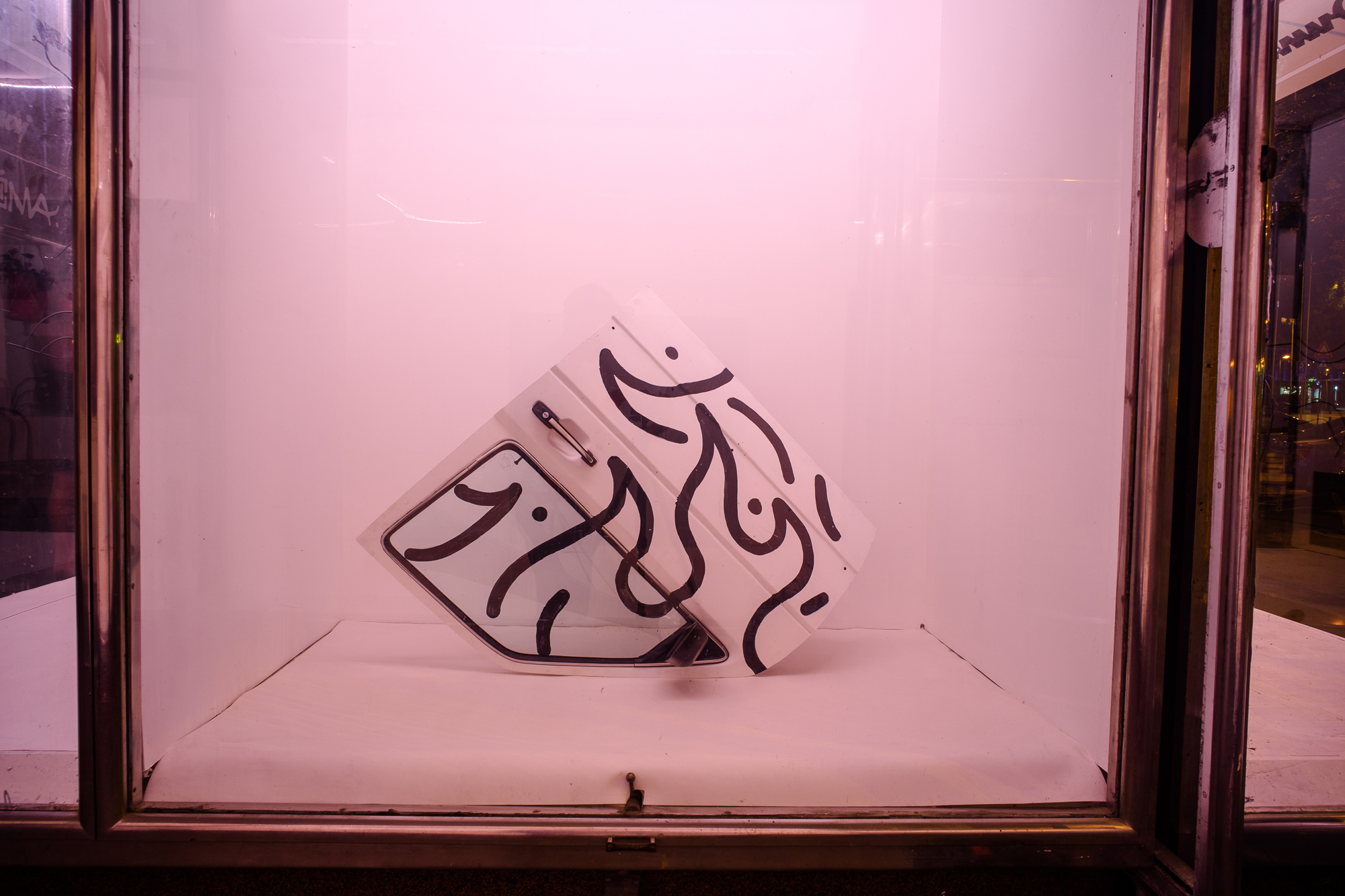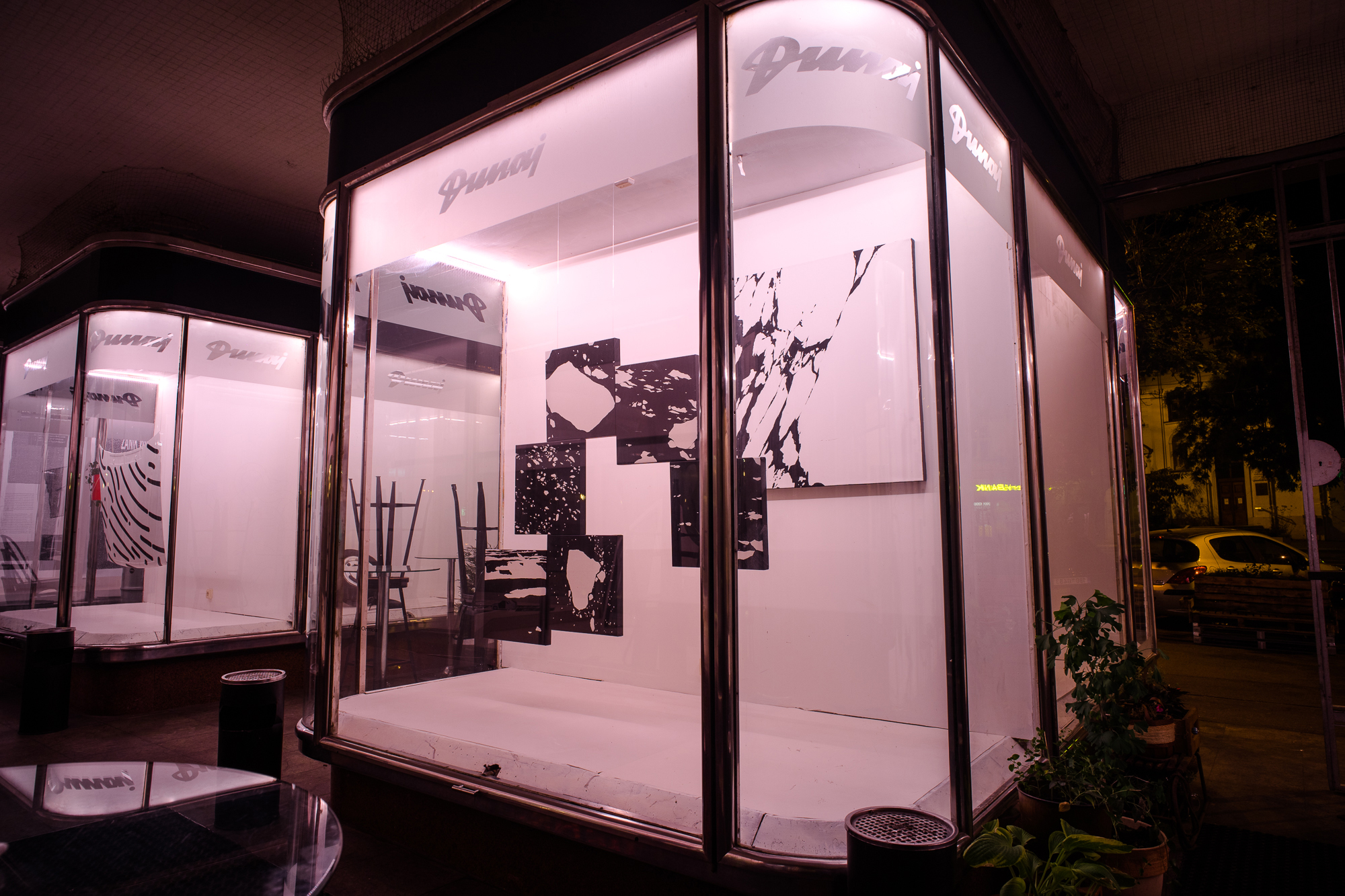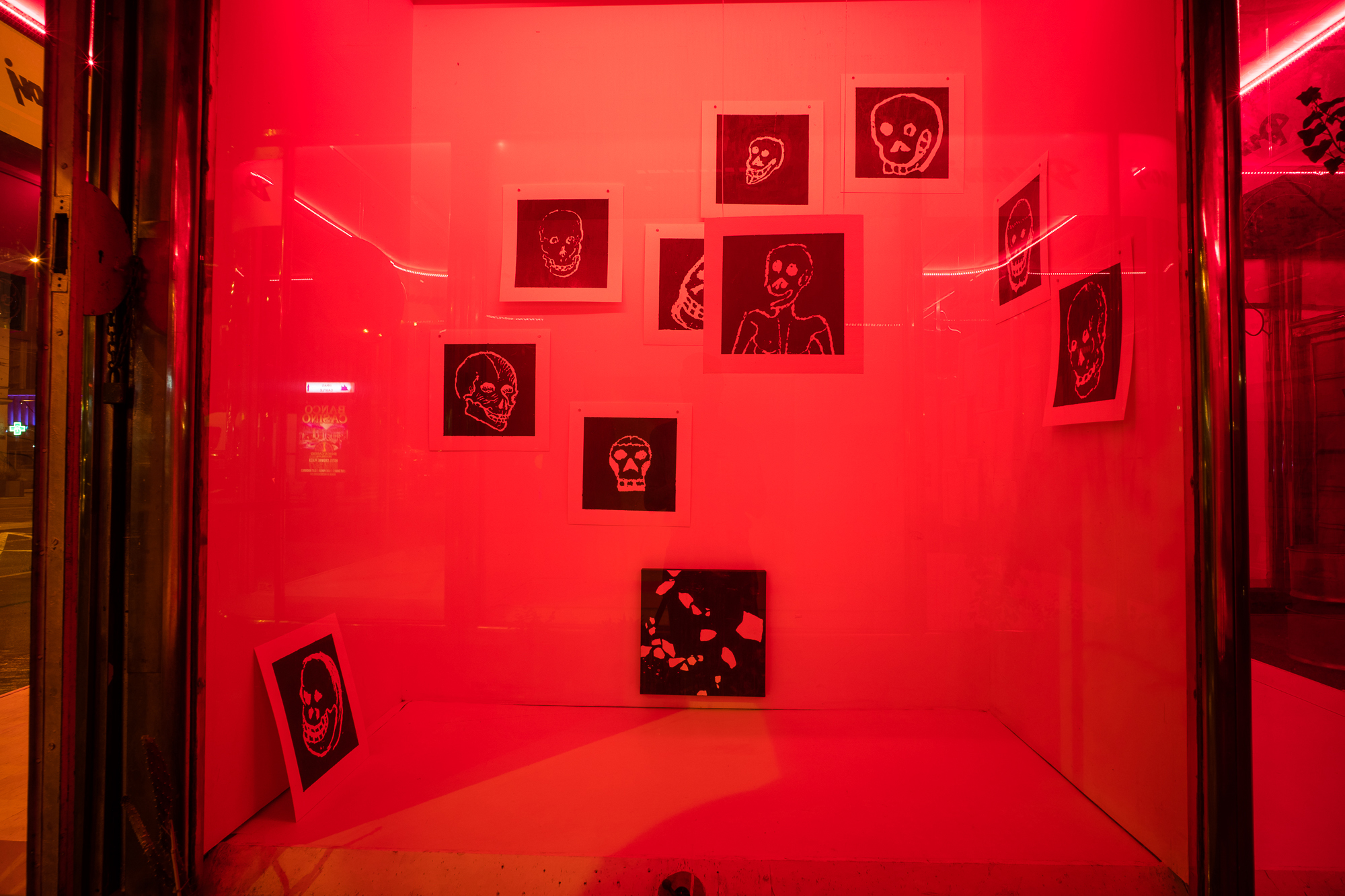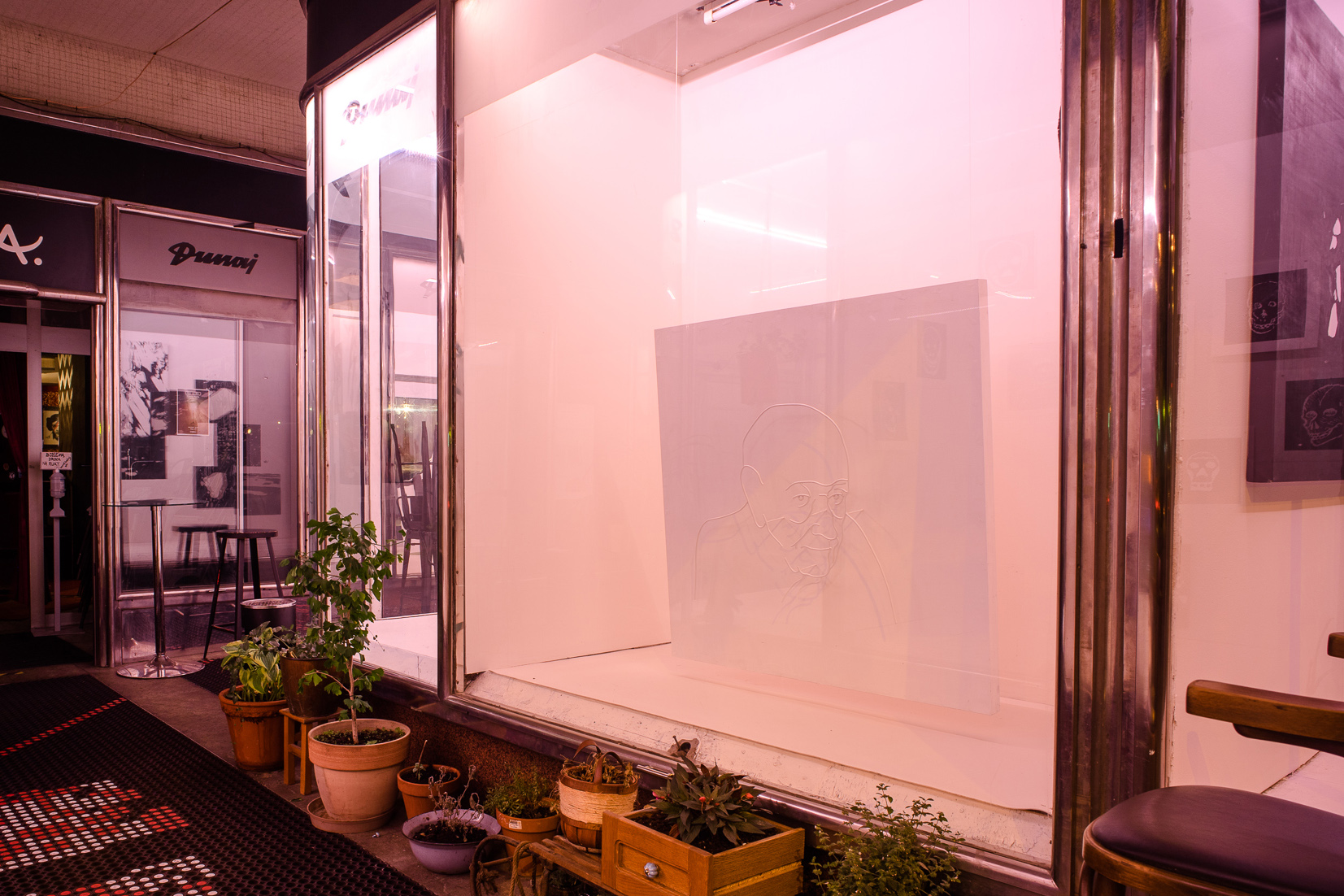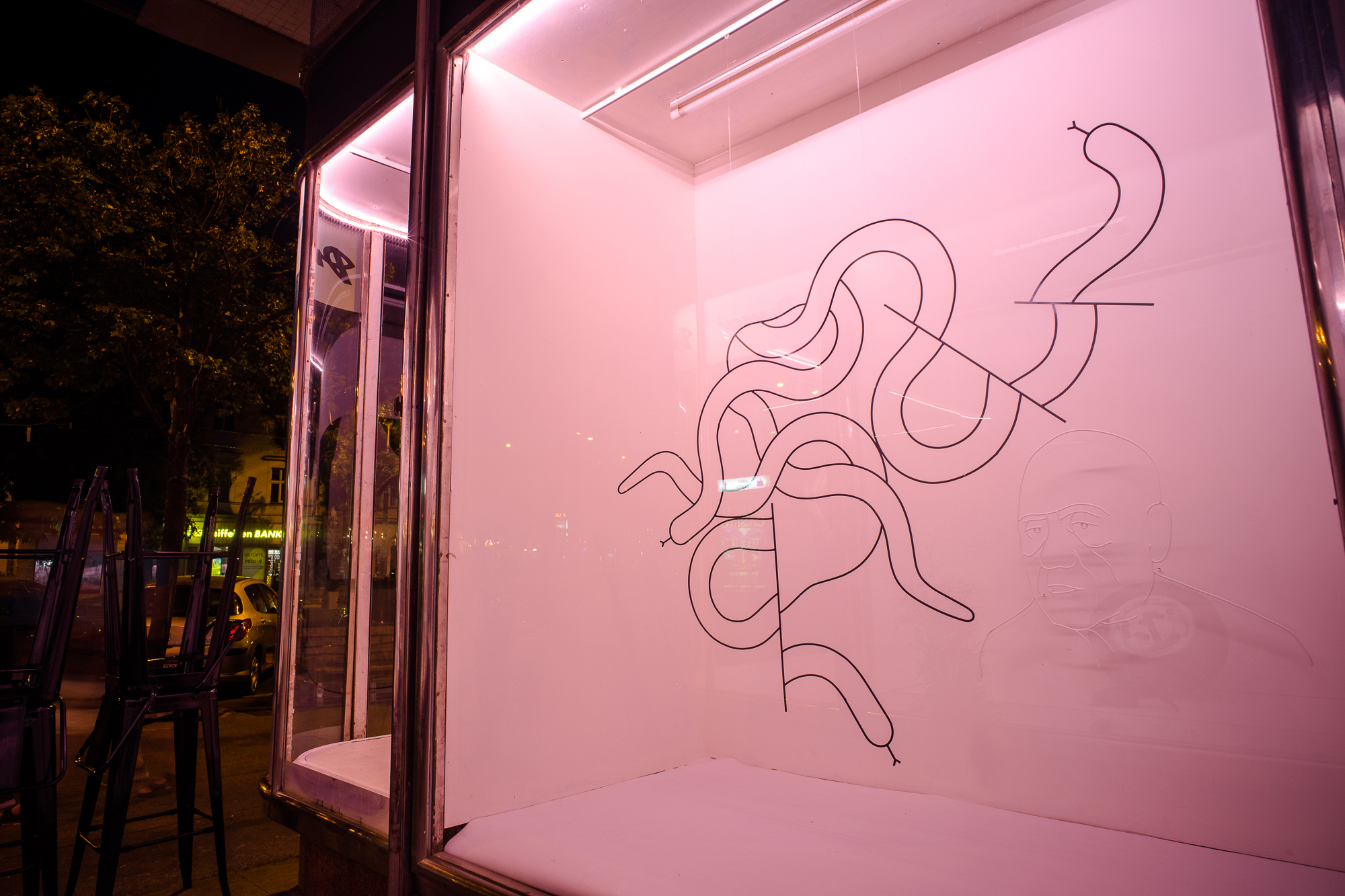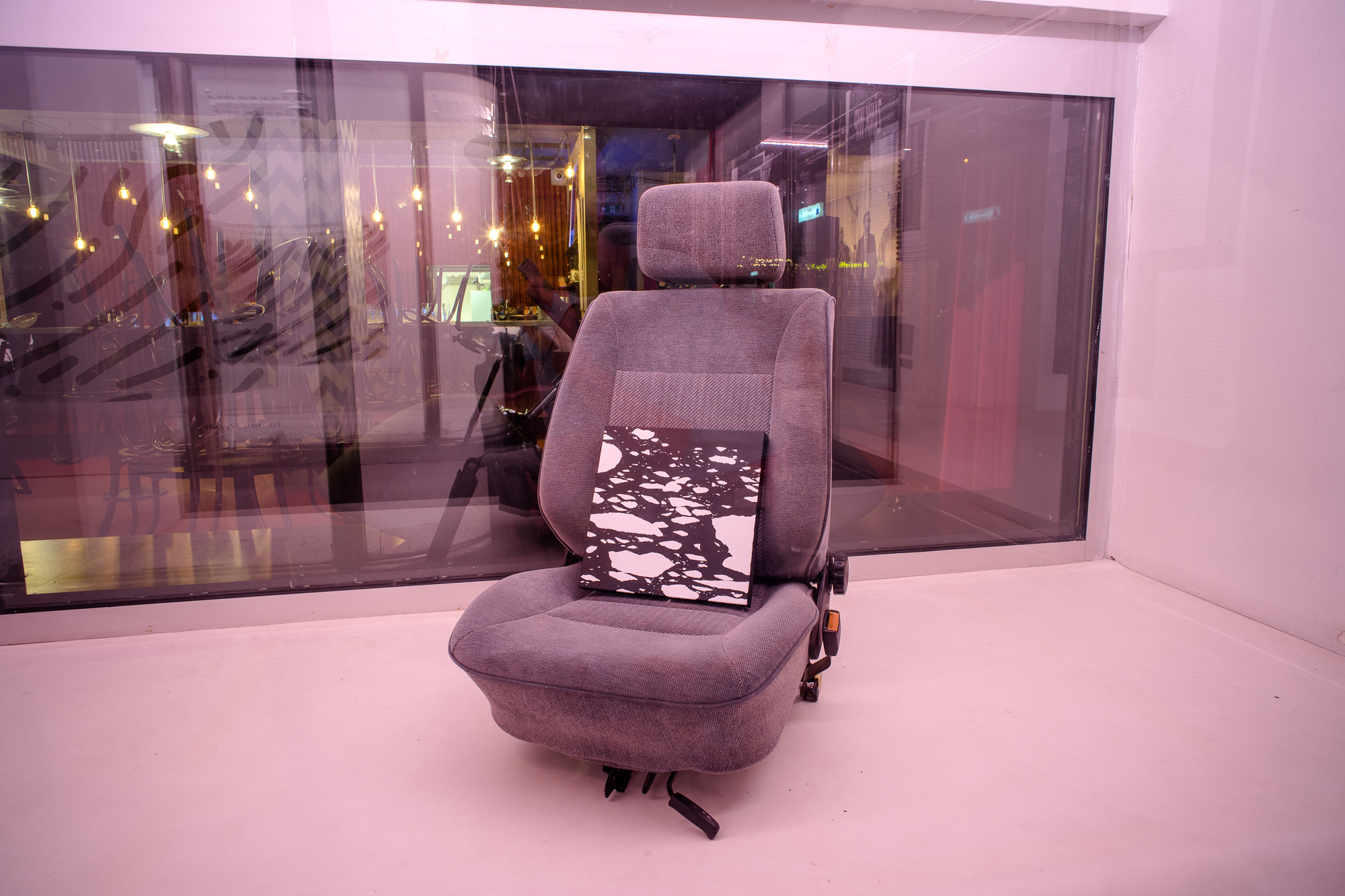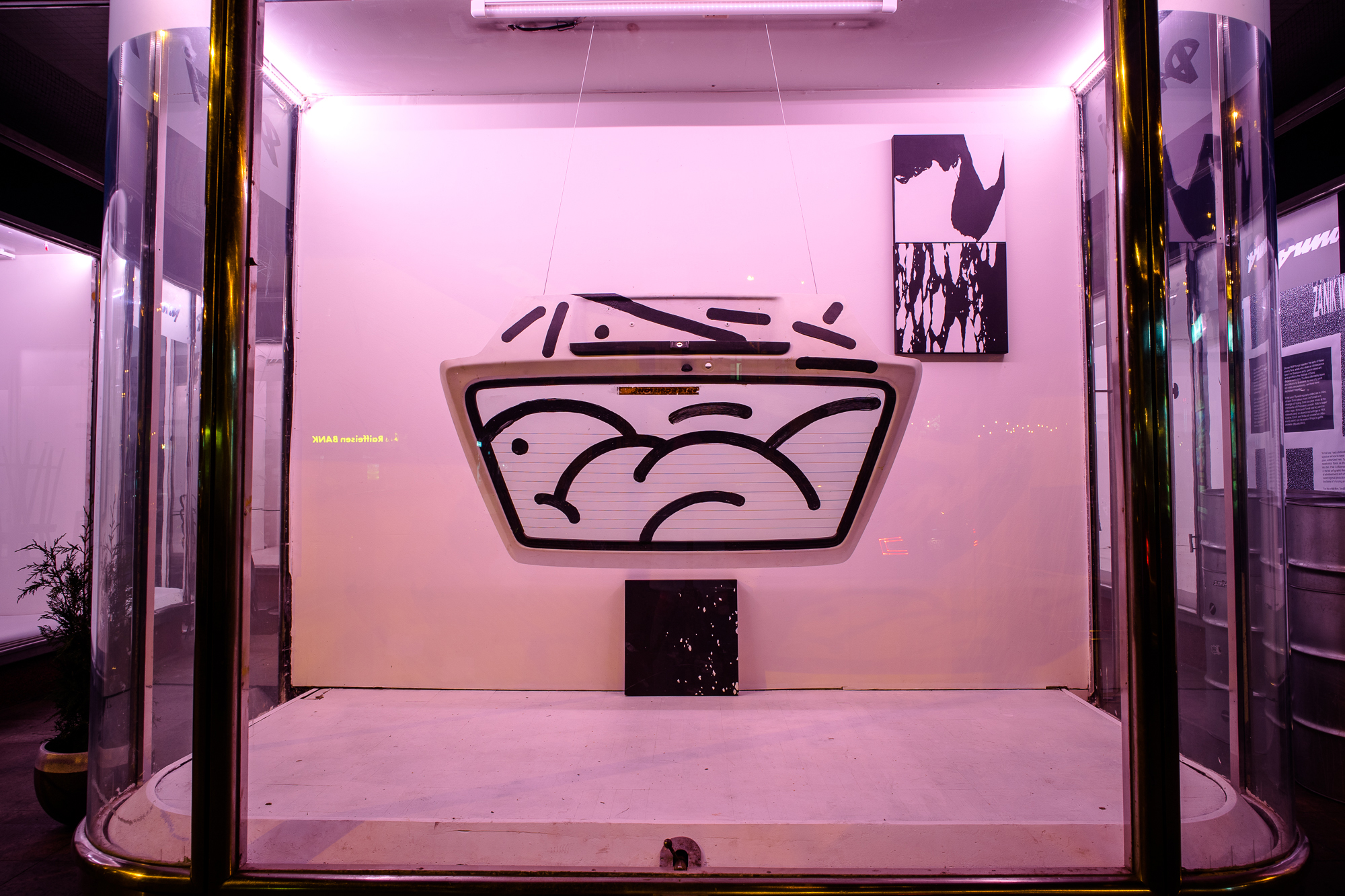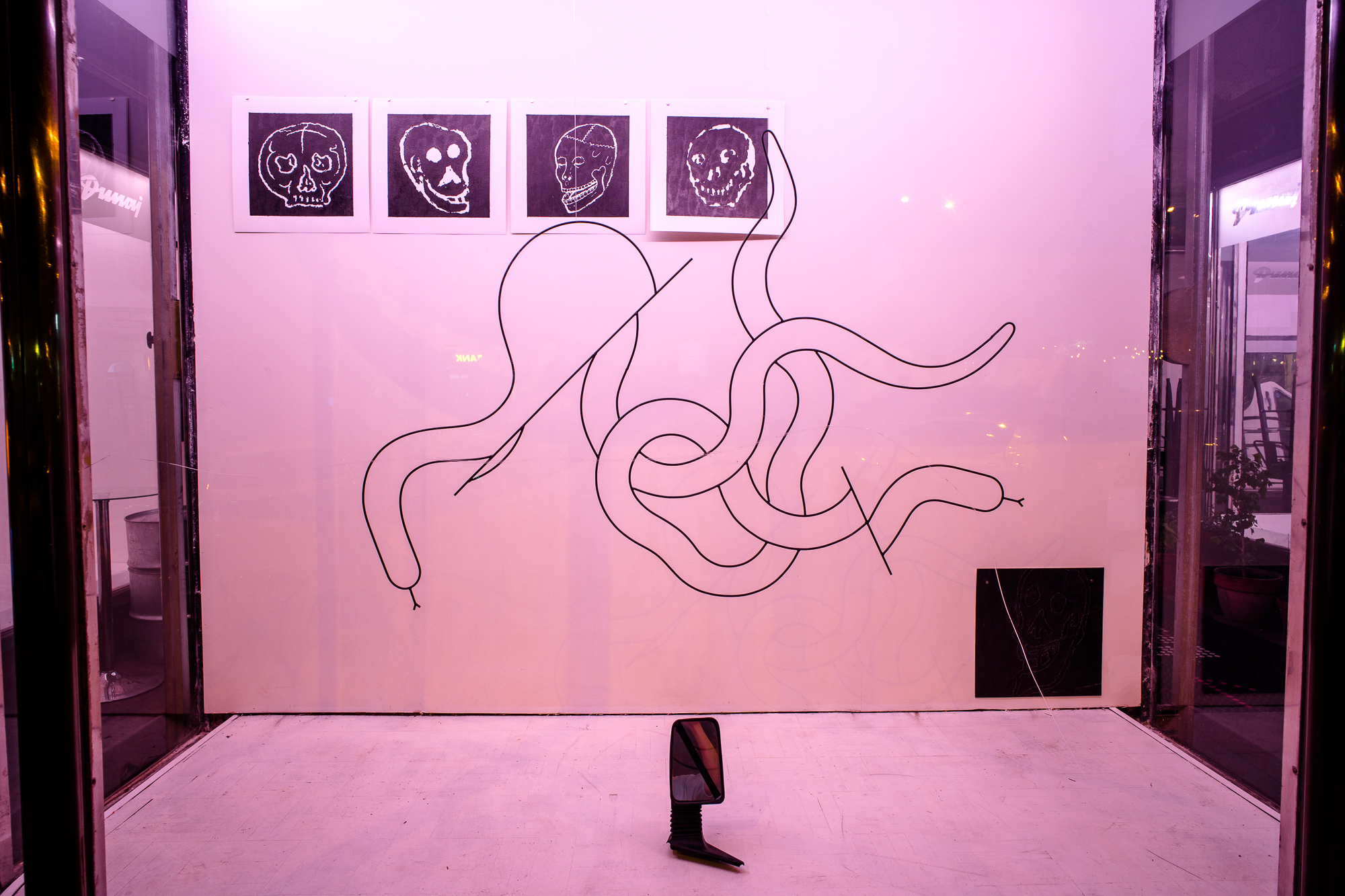 decay WIP (2020)
group exhibition with Mišo Ormos & Tomáš Rybár
Bohéma Gallery, Bratislava
Decay WIP brings together the work of three young fine artists who share an adolescence spent in Bratislava and a past in street-art and graffiti to the displays of Dunaj department store. The three alternately leave and return to Bratislava, by now only paint on walls recreationally, and have never exhibited together.
Emil and Tomáš regularly collaborate in clubs, where Emil plays music and Tomáš is in charge of VJing. Emil also plays music at the concerts of Prezident Lourajder, Mišo's rapper alter-ego. Emil and Tomáš used to paint on streets and in abandoned buildings as PEK Crew, Emil and Mišo still occasionally (#bored) paint on the walls of Prague's graffiti zones (#justchillin).
Tomáš has had a distinctive and memorable signature since his days as a student. Thick, plain, vectorized lines. Typography that morphs into faces, as though inscribing itself into them. He is influenced by experience in the field of graphic design, the language of advertisement, and urban tags. His most recent original production oscillates around the theme of motoring and car fetish.
For this exhibition, Tomáš has produced a series of objects loosely related to his prints Jazdenky, which he showed earlier this year at the Artfórum bookstore in Žilina. In his present series 4 LIFE (2020), he transforms found fragments of car wrecks through painterly gesture. He tattoos them with their own fate, with bruises sustained in collisions and motor accidents. He aestheticizes misfortune, and perhaps in the context of the art presented here, he shows us that decay can be beautiful. The transformation of an accident into art, of an unhappy coincidence into artwork, can be a method of acceptance and reconciliation with fatality.
The theme of irreversibility is a thread that runs through all of the exhibited artefacts. Emil thematises it in his series So Long Old Man (2018). These objects on the boundary of drawing and sculpture first appeared in public at an eponymous pop-up exhibition in Bratislava's Bless Studio.
Emil began working in the technique of drawing by wire bending while he was a student. Since then, he has perfected his craft, but more importantly he has managed to smuggle new content into this folk-DIY genre. Beginning with his series Busta bula (2012), which ironized the genre of bust portraiture and the toxic machismo typical of Emil's birthplace, running up to his sad grandpas (self-portrait?) shown at the present exhibition, whose ephemerality, vulnerability and social invisibility is underlined by the white coating of the wire and by being displayed on a white background. As though the shadows they cast, that is to say their past, were more notable than their present 'I'.
Shadows will also be thrown at the present exhibition by his newest objects unequivocally titled Problemsss (2020). The symbol of entwined snakes is an intelligible representation of unintelligible life situations. Of tangles with no solution in sight. Of relative correlations. Of helplessness. They may be the snakes from Medusa's head or a reference to the Hydra. Perhaps there is no point in struggling with them, and we have nothing to do but passively wait until they disentangle on their own. Perhaps we will have to learn to live with them.
What joins all of the exhibited artworks – besides a distinctive graphic monochromatic execution – is an aesthetic of catastrophe. Decay, demise, terminus. This position is new for Tomáš, but Emil and Mišo have applied themselves to it for some time now. While Tomáš pays attention to sudden, unintentional collapse (which might be a metaphor for the mindset of the age or system we live), Emil ponders the gradual and irreversible disintegration of the individual, who ceases to be visible to society, and the symbolism of conundra accompanying him on his way to expiration.
Mišo has painted glacial decay since graduating from university in 2017. In his painted series Melting, he thematises the fragility of all that surrounds us, relationships between the microscopic and macroscopic world, and the beauty of silent-roaring catastrophe. He considers glaciers to be brutal symbols of life and doom.
His paintings are fractal-like, the beholder is uncertain if he or she is looking at a minute detail of the problem or its grand totality. Melting illustrates the consequences of global climate change, an inconspicuous ruination of biblical proportions. These apparently abstract compositions with decorative qualities are actually precise copies of aerial and satellite images. The author senses subversive potential in their formal harmlessness ('pleasantness to the eye'). Mišo likes to picture how his pictures from Melting hang in people's houses. Like a cross above the door. Or like a great-grandmother's embroidered adage above the fireplace. Like vanitas still-lifes used to hang on walls in the 17th century Netherlands.
Melting are black and white images of luminous icebergs wandering the dark waters. They meet and part. They draw near, break, recede. They melt together and drown together. Mišo has shown fragments from this series in Zlín (Photogether Gallery, 2019), Trenčín (Nová vlna Gallery, 2017/18), and Liptovský Mikuláš (Diera do sveta, 2019). Decay WIP sees them premiere in Bratislava, together with his most recent paintings on paper tentatively titled Skulls.
The latter is an unfinished series that sees him return to the theme of 'memento mori'. He does not merely remind us of death but also 'revives' it – by repainting tiny drawings of skulls from digitalized medieval manuscripts and illuminations that he discovers among thousands on thousands of pages of online library catalogues. He understands these re-medializations as reanimations of bygone fears and traumas, as proof of the fact that our lives have not changed dramatically over the centuries. That the old spectres are equally haunting today as they were in the past. Death is alive and we are living PLAGUE v2.0.
-Prof. Peter Redjar, Uol.
photos by Simon Luptak